Osiopack, Inc. was founded in 1996 to facilitate off-shore sourcing for U.S. consumer product manufacturers, and continues to be one of the fastest growing flexible packaging suppliers in the U.S.
Fueled mostly by the tremendous popularity of gravure printed shrink sleeve labels, Osiopack had outgrown the facility on Lewis Street in Anaheim, and moved to a new, 3 times larger facility about a mile away. Osiopack's business philosophy has been to provide superior quality products at an outstanding value, being a dependable supplier, and always searching for better ways to keep customers at the forefront of packaging innovation.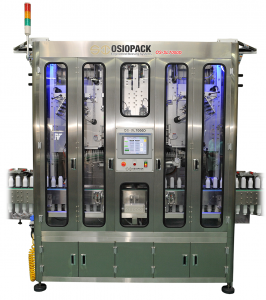 Osiopack is now proud to offer complete Engineered Sleeving Systems. These systems have Industrial heavy-duty quality, durable stainless steel construction, servo systems fully integrated with operator interface control panel, thin gauge film capabilities, and fast, tool-less changeovers.
Osiopack's Shrink Sleeve Applicator provides high production rates for full body sleeving applications. Featuring the latest mandrel technology with minimal moving parts and a wide variety of product handling sizes. Compatible with all commercially available shrink films.